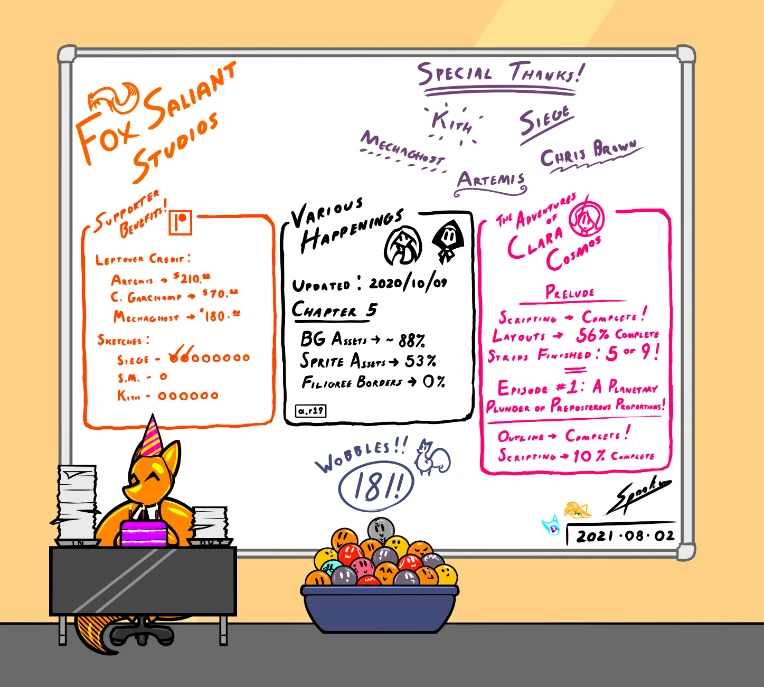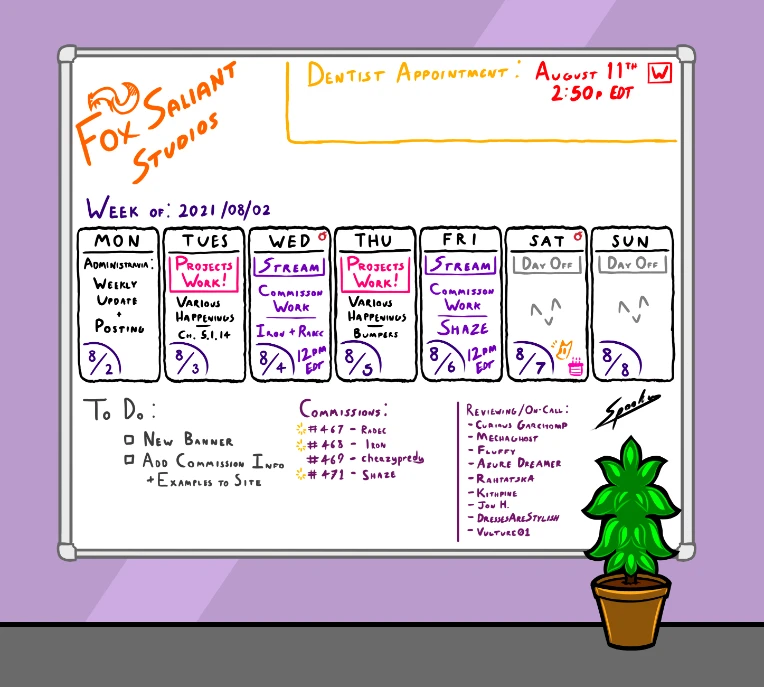 Hey peeps!
Been a bit, sorry about the quiet. Just been kind of up and down lately. My health has been kind of wobbly (nothing too bad, just haven't been feeling well and my reoccurring infections have come back recently) and there's been a lot of stuff going on at home that I've been having to divert my attention to.
I'm trying to fix my schedule and be a bit more consistent with my sleep, plus I have a dentist appointment next Wednesday (August 11), to see about getting some x-rays and getting a final estimate on how much it'll be to take care of everything. A lot going on.
Not to mention, as of Saturday, August 7th, I will be thirty-five years old. Mentally, sometimes, I don't feel any older than I ever have, but sometimes I'm just really friggin' tired. It's been a bit too much now and again, lately, and I've never quite caught up from the big shake-up a few years ago, but I'm doing my best.
My projects are slowly coming along. I'm hoping that Various Happenings Ch.5 will be finished this month, though I'm not making any promises. It's been an up and down rollercoaster of enthusiasm and exhaustion, but the key to getting to the end is getting past where most artists would quit. I've been there a few times, so if I can keep shrugging that off, then we'll see it eventually. I've learned a lot of things about what I'm doing, so hopefully, in the future, I'll be able to use those to my advantage.
There are other things that are coming along as well, though they're going slowly and I haven't really put them out in the forefront yet, so I'll keep chipping away until they're actually ready.
It's a little disheartening, but I'm trying my best.
I've got three commissions in the works, one of which is just about finished; then I have one I have to follow up on before I'm done. With my attention divided in so many directions, it's been a bit of a time getting everything taken care of.
But we'll get there!
Maybe I can get something nice for my birthday, like… pants or something.
Anyway, more or less, I'm working and it's taking a while, but hopefully, soon, things will start showing up as I finish them!
I hope you are all doing well, and I thank you all for your patience.
Take care of yourselves,
~Spooky
PS: Remember, streams are now on Jottor.tv and the chat is on the Fox Saliant Studios Discord, so check us out there!
---------    
A Special Thanks goes out to this month's Fanclub Foxes, Kithpine, Gunslinger Dragon, Artemis, MechaGhost, and Chris Brown for their support! If you want to help us stay fed and invest towards some cool projects in the future like more Various Happenings, consider checking us out over on Patreon. We really couldn't do it without fans and supporters like you.
===
Fox Saliant Studios | Various Happenings | Shop! (RedBubble)
Patreon | DeviantArt | Fur Affinity | Inkbunny | Newgrounds | Twitter