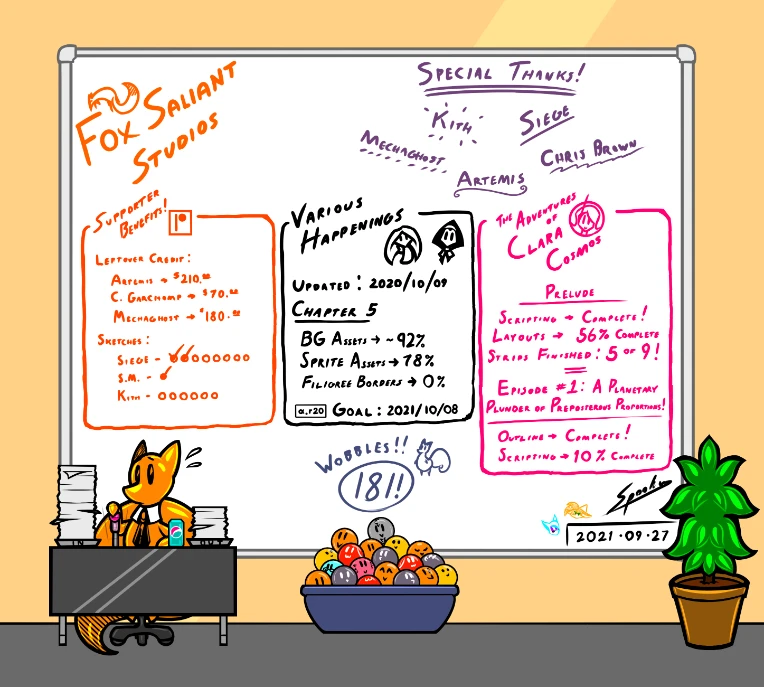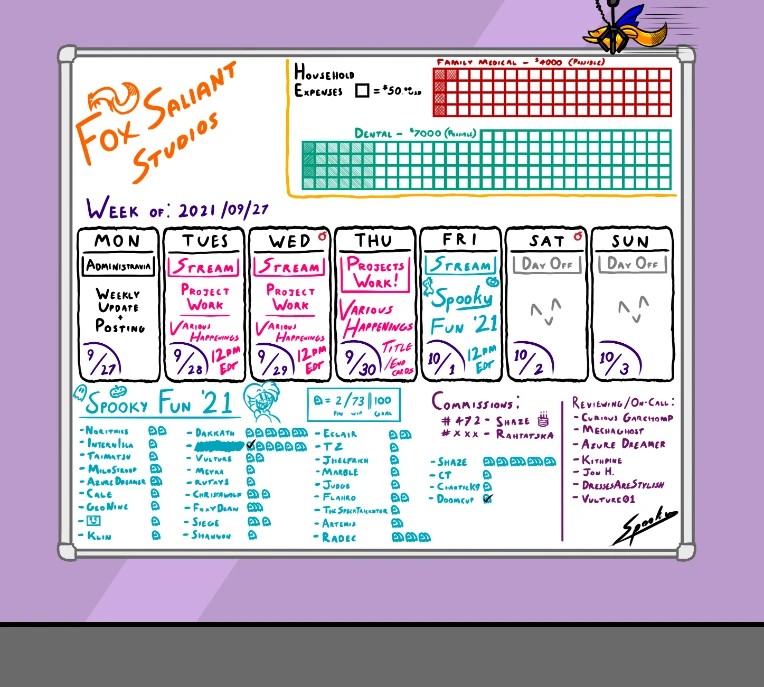 ---------     
Hey peeps!
Sorry for missing the stream on Friday. Got sick and I spent most of the day in bed, but I feel more or less recovered now! It's taken a lot longer for my roomie to get over it, but she's taking good care of herself (and she took a covid test and it came back negative, so it was probably just a sinus bug.)
I will be doing another Spooky Fun stream on Friday to make up for the one I missed last week, but this week is going to be dominated by working on Various Happenings! I've only got this week and next week until Friday to get everything done! This is the home stretch, but it's going to be out on the 8th no matter what! Still, I feel like it'll come out great and I hope you're all looking forward to it as much as I am!
The response to the Spooky Fun stuff has been great, and I can't wait to work on that some more. After October 8th, I'll be taking a few days to relax, and then blitzing them hard all the way up to Halloween, so I hope you all join me for those streams!
We're at 75% of our goal and still climbing! <3
You can check out my yearly Halloween sale if you like and pitch me an idea via note or e-mail if you like!
Remember! The sale runs until November 5th, so be sure to check it out if you're interested in some spooky (or spoopy) sketches!
We've got this! Thank you everyone for your support!
I'll see you next week!
~Spooky
PS: Remember, streams are now on Jottor.tv and the chat is on the Fox Saliant Studios Discord, so check us out there!
---------    
A Special Thanks goes out to this month's Fanclub Foxes, Kithpine, Gunslinger Dragon, Artemis, MechaGhost, and Chris Brown for their support! If you want to help us stay fed and invest towards some cool projects in the future like more Various Happenings, consider checking us out over on Patreon. We really couldn't do it without fans and supporters like you.    
===
Fox Saliant Studios | Various Happenings | Shop! (RedBubble)
Patreon | DeviantArt | Fur Affinity | Inkbunny | Newgrounds | Twitter